Projects /

Annual Projects
016 PaPs 2018 PaPs Course in Italy_Politecnico di Bari
In the period from March 22nd 2018 to June 21st 2018, PaPs had an opportunity to expand its activities in Puglia (Italy), in the occasion of the official engagement at the Politecnico di Bari. The activities carried on during the period included teaching as well as extensive research, networking and other academic works.
Teaching activities were organized in six lectures with a general topic of "Art in Urban Design". Those were costumed for the students on master level, but open to the wide public. A seminar and a workshop on the topic "Public Art and Public Space" were organized for students from Scuola di Spezzialisazione in Beni Architecttonici e del Peisaggio, students form first and third year of academic studies at Politecnico di Bari, as well as for international students. Research activities has been based on 'in-situ' analysis of the local condition and specific context of the public art practice in Puglia Region and the City of Bari. The research aimed to discover present forms of public arts and how these are contributing to the process of place-making of local urban spaces. Networking activities has been based on establishing contacts, trust building and cooperation with local art community through mutual activities inside the teaching and research activities.
The course contained four lectures and a workshop in direct relation to the topic and program Public art & Public space - PaPs and, four lectures with a broader understanding of the city. Following contributions illustrate the plates and summary of the lectures (and a field research) that are directly related to the PaPs education.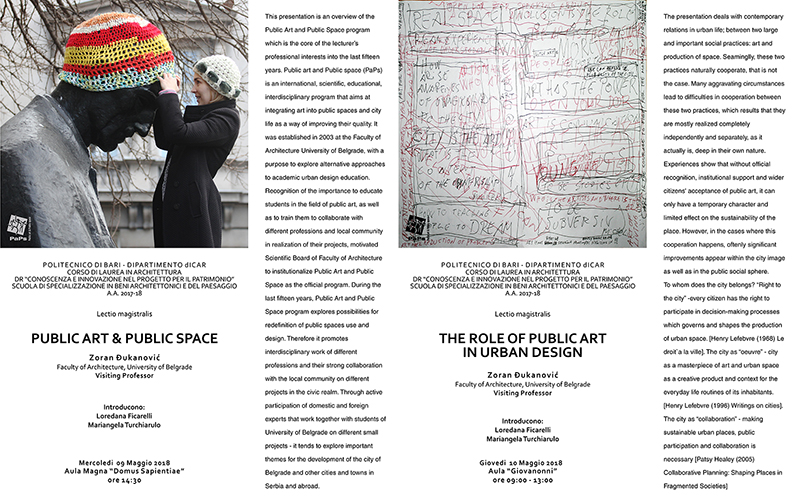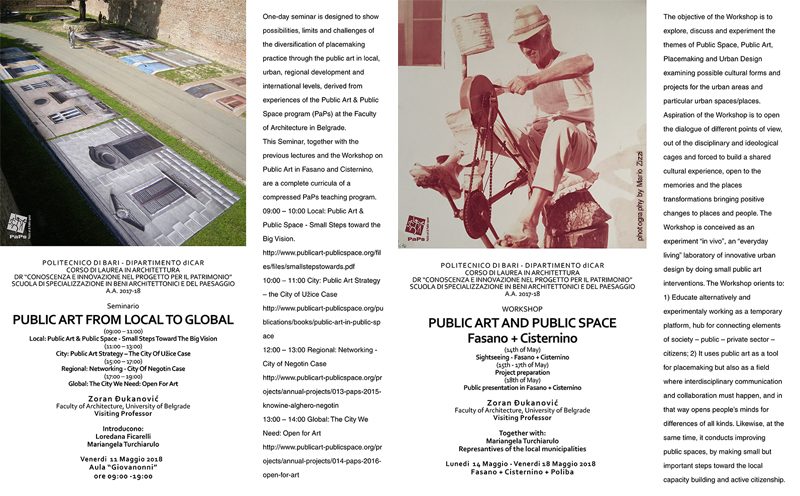 Special thanks for the suppot in realisation of the course: Agnese Purgatorio and Beppe Labianca
Special thanks to artists: Walter Trento, Nadiya Yamnych, Patrizia Pareo, Alberto Vannetti, Anna Secondo e Ilaria Marangi.
Special thanks to the Major of Fasano, Franciesco Zaccaria, and the Major of Cisternino, Luca Convertini, as well as, to the guide from the MAAAC Museum in Frasano, Mimmo Tamborrino and Margherita Latorre from the municipal tourist service of Frasano.
And last but, not the least, special thanks to students: Acquafredda Tiziana, Barbuto Michela, Caiati Luca, Campanello Myriam, Clarizia Francesca, Colamonico Angela, Colaninno Piera, Corrado Salati Angelica, Dibenedetto Valeria, Fengmei Yang, Qiaofeng Bao, Xianlu Chen, and Zhixin Wu.
Lectures at the Politechnico di Bari /

Gallery
In situ Reserch Fasano /

Gallery
In situ Reserch Cisternino /

Gallery
/

Gallery
Related links