Projects /

Lecturers
Kengo Kuma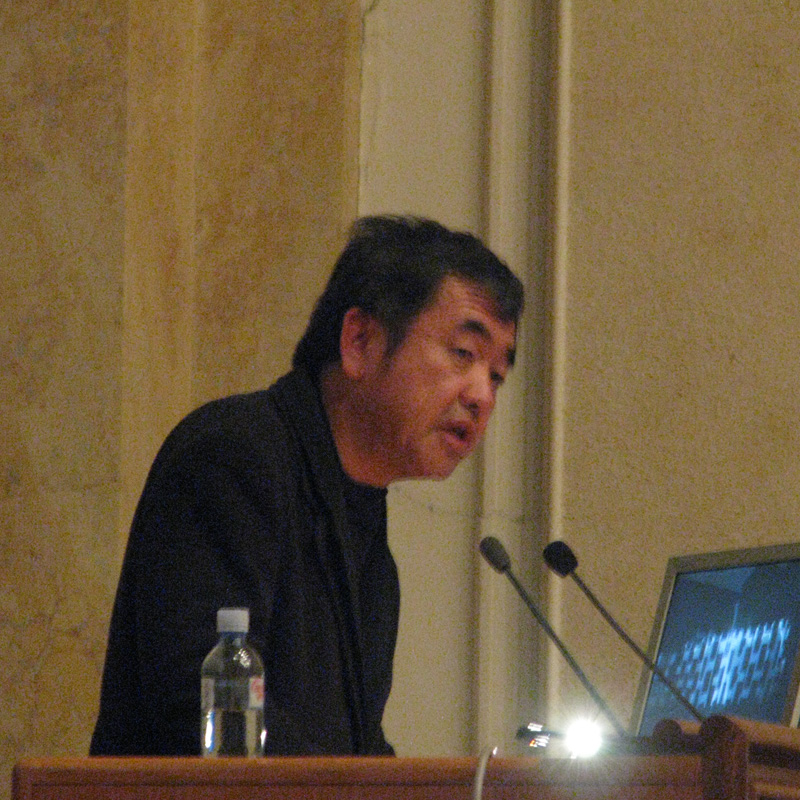 Faculty of Architecture, University of Belgrade had a great honor to host the lecture of Professor Kengo Kuma on Friday, October 8th 2010. (Technical Faculties Building / Ceremony Hall / I floor). Lecture was free and open to the public.
Professor Kengo Kuma (of Kengo Kuma Associates) is one of today's most prominent and internationally renowned Japanese architects. This lecture is held in conjunction with the PaPs program.
Lecture video is available on http://media.amres.ac.rs/index.php/multimedia/viewvideo/42/predavanja-po-pozivu/kengo-kuma.html
After the lecture prof. Kengo KUMA was decorated as Honorary member of Public Art & Public Space (PaPs), interdisciplinary program founded on Faculty of Architecture University of Belgrade.
This was the second decoration of the "Honorary member of the PaPs" title, introduced by the Public Art & Public Space program at the University of Belgrade as a title bestowed upon individuals or organizations worldly recognized for their extraordinary merits in the area of art and design within the public spaces. The first "Honorary member of PaPs" title was announced during PaPs' 5th anniversary to its founder Ms. Charlotte Cohen, Fine Arts Director at GSA New York.

Prof. Kengo Kuma was hereby decorated "Honorary member of the PaPs" title for his ambivalent qualities in design; audacious material exploration, not only experiments on new materials, but traditional ones also - thereby redefining sustainability ideas with clear statements and achievements; finally, for his prominent academic career - all this highly inspiring complete PaPs' network since its founding.
In behalf of Faculty of Architecture, Vice-Dean Prof. Djukanovic closed this ceremony by awarding new "Honorary member" Prof. Kuma the PaPs Medal.