Documents
Projects /

Exhibitions
Bogdan Bogdanovic - DEATH AND THE CITY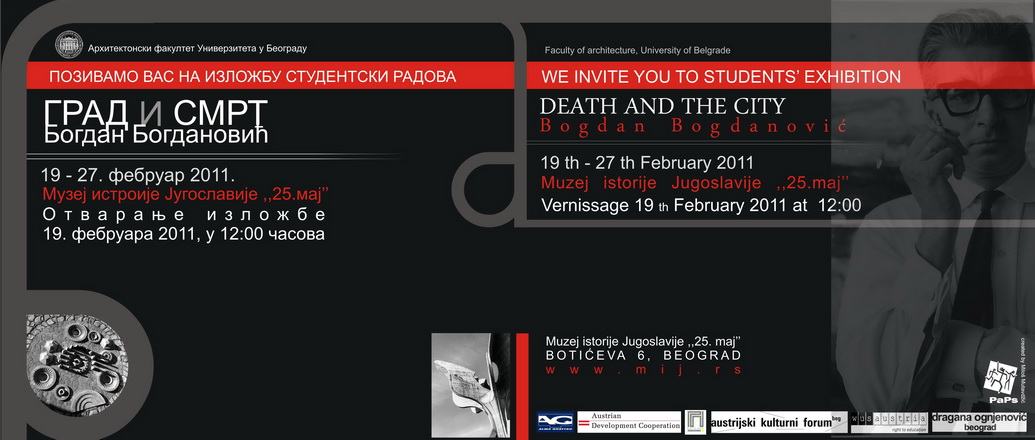 "Death and the City - Grad i smrt - Bogdan Bogdanović" exhibition of the students' works is follow-up EDU activity, organized in the Museum of Yugoslav History "25. maj" in Belgrade.
Selected projects were picked by the managers and curators of the The Belgrade City Museum for further exhibiting during the event "Noć muzeja 2011" (exhibition "Ukleti neimar") in Konak Kneginje Ljubice in Belgrade.
During the winter semester 2010/11 traditional PaPs elective course dealt with the role and influence of Bogdan Bogdanović in public spaces. "Gradoslovar" and "Death and the City" PaPs elective courses dedicated to Bogdan Bogdanovic at the Faculty of Architecture at the University of Belgrade. Courses were carried out with the support of international cultural funds and participation of guest lecturers.
In Gradoslovar and Death and the City students accomplished independent research work, inspired by specified works and literature, as well as other documents relating to Bogdanovic's work and work of his range. The emphasis was processed through texts by Professor Bogdan Bogdanovic.
According to the courses results - this was one of the most successful and innovative PaPs EDU programmes. In a creative and inspirational way, students responded to the theme of the programme by submitting graphic and textual works, as well as through video, audio and spatial installations. Bogdanović's writings on the city and his memorial architecture were the main themes of the exhibited works.
If you want to see more, vitist the links below:
Bogdan Bogdanovic Student Exibition 'The City and Death' (1)
Bogdan Bogdanović Student Exibition "The City and Death" (2)
''Bogdan Bogdanović'' Serial_Episode 1: Opening
"Bogdan Bogdanović" Serial_Episode 2: Labirint
"Bogdan Bogdanović" Serial_Episode 3: Exhibits
"Bogdan Bogdanović" Serial_Episode 4: Fragments
"Bogdan Bogdanović" Serial_Episode 5: An interview with one of the authors