Projects /

Supported
Italian Design Day 2021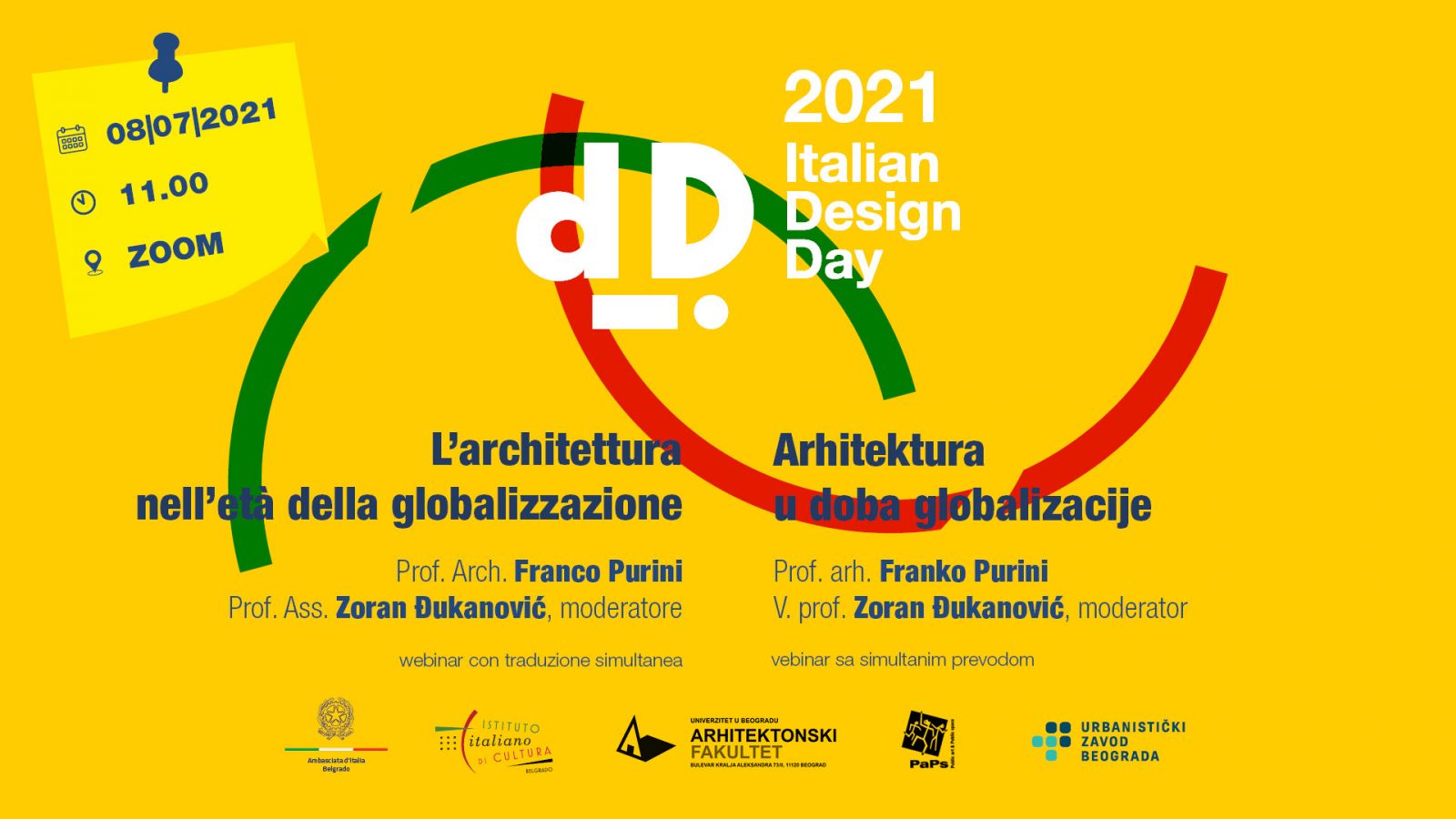 The event celebrates the fifth edition of the Italian Design Day. Italian Design Day is a global project launched by the Ministry of Foreign Affairs and International Cooperation in collaboration with the Ministry of Cultural Heritage and Activities (MiBACT), Association of Industrial Design (ADI), Compasso d'Oro Foundation, ICE Agency, Confindustria, Milan Triennale, Salone del Mobile in Milan, Federlegno Arredo, and Altagamma Foundation. The initiative promotes and celebrates the excellence of Italian Design. During events, "Italian design ambassadors" will present the best of Italian Industrial Design all over the World while discussing the topic: "Project and matter: new challenges for the sustainable restart of Made in Italy".
On the occasion of the fifth Italian Design Day, the Italian Embassy in Belgrade and the Italian Cultural Institute in Belgrade, in collaboration with the Faculty of Architecture in Belgrade and the Institute for Urban Planning in Belgrade, present an online lecture by Prof. Arch. Franco Purini, well-known in Italian neo-rationalism and, in particular, in the so-called "paper architecture".
The lecture by architect Franco Purini, entitled "Architecture in the age of globalisation", will be moderated by Prof. Ass. Zoran Đukanović of the Faculty of Architecture in Belgrade. It will be held on Thursday 8 July at 11 a.m. on the Zoom platform and streamed on Facebook.
Participation in the conference is open on a first-come, first-served basis. To register, click here: https://us02web.zoom.us/webinar/register/WN_L5Abz2pCQ9WxQHD2FiyMNw
Franco Purini has taken part in major projects, including the Zen district in Palermo, the University of Calabria at Arcavacata, three squares and Casa Pirrello in Gibellina, the affordable housing project in Naples, the Chapel of St. Anthony of Padua with the churchyard and bell tower in Poggioreale, and many others. In 2006, he was the curator of the new Italian pavilion at the 10th International Architecture Exhibition of the Venice Biennial. He carried out an important educational activity, teaching architectural design and composition in various Italian universities, such as the Higher Institute of Architecture in Reggio di Calabria, the University of Rome "La Sapienza", the Milan Polytechnic and the University Institute of Architecture in Venice. In 1966, he opened a studio in Rome with his wife Laura Thermes. Through his numerous writings and, above all, his drawings, he has greatly influenced the international environment. Purini's intense design activity, always marked by a great experimentalism, led him to investigate the relationship between design and representation, city and architecture, architecture and landscape. He has been a member of the Accademia Nazionale di San Luca since 1989. He won the Leone di pietra at the Venice Biennale for the Accademia bridge project (1985) and the national IN/Arch, Istituto nazionale di architettura award (1991-92) for the residential project in Naples.
Related links